Seamless Countertop Refinishing
Get a high-end look for a fraction of the cost. Durable, food-safe and dazzling.
Stunning results in days at a price that won't leave you stunned.
There's nothing quite like a home with gleaming surfaces and a fresh, new designer look. If you've written off that possibility because of the time, money and hassle involved, it's time to think again.
Re-Coat Renovations' revolutionary countertop refinishing technology gives homeowners new countertops with less mess, time and expense than a traditional full-on, tear-out renovation. Using a high-grade, professional-quality epoxy, Re-Coat's artist-installers partner with you to bring your vision to life. We can imitate stone, quartz, concrete and metallics for unlimited design potential in your kitchen or bathroom at a cost that is substantially less than buying and installing the real thing.
Poured directly over an existing non-porous surface, you can choose from a wide range of colours and treatments. Your installed Re-Coat Renovations countertop dries hard in just a few days, and is easy to clean, food-safe and heat-resistant. There are no seams to trap dirt and grit, and you get a smooth surface to enjoy for years to come.
Re-Coat Renovations revolutionary countertops are perfect for:
homeowners dreaming of a new designer upgrade for their home
entrepreneurs looking for a fast and cost-effective house flip
realtors recommending changes for clients to add value to a home's listing price
contractors wanting to wow their clients within a tight budget
offices, restaurants, institutions or hotels looking to freshen up kitchen and bathroom surfaces
Are you dreaming of a sleek new look for your kitchen or bathroom, but just don't have the time, budget or the will for a full renovation? Re-Coat renovations can give you spectacular results in just a few days. Call us for a quote.
Are you looking to refinish laminate countertops in your kitchen or bathroom?  Then you should consider the countertop resurfacing options Re-Coat Renovations can provide you.  From kitchen counter resurfacing to bathroom countertop resurfacing we can handle it all.  We can give your countertops a new and revitalized look at a fraction of the cost and time of a full kitchen or bathroom renovation.
Before you hire a renovation company to rip out your kitchen or bathroom, give us a call and let us show you what we can do for you.  You might be surprised at how well our service will work for you.  Don't waste money and time when you don't have to.  Call Re-Coat Renovations today for your countertop resurfacing needs in Lethbridge.  You won't be disappointed.
See our full FAQ section for more information on Re-Coat Renovations countertop technology.
Ready to get started? Here is the Re-Coat Process:
Step 1: Get an estimate. We'll come out to look at the project scope and tell you what you can expect for cost. If we're within your budget, then it's onto the next step.
Step 2: Pick colours and a design style. Now it's time to convey the look you're going for. Gather your own samples, find pictures or choose a design from our samples.  When you've decided those details, it's time to call us again.
Step 3: Book an appointment. We will meet with you again to understand your design ideas, go over the agreement, and discuss the time line with you.
Step 4: Make a deposit and book an appointment for resurfacing.
Step 5: Wrap it up! After the top coat is dry, we'll remove the drop sheets, take photos and collect final payment.
If you are doing major renovations, we are happy to work with your general contractor for scheduling and billing.
LOOKING FOR A SIMPLIFIED RENOVATION?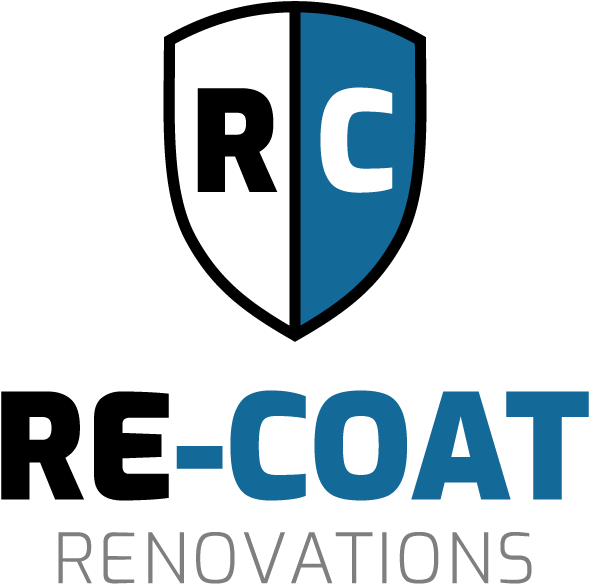 About Re-Coat Renovations
At Re-Coat Renovations, we believe you can have your dream kitchen and bathroom without a renovation that's all-consuming, eating up your time, money and energy. That's why we're offering Lethbridge and Southern Alberta businesses and homeowners a simpler way to renovate.
We challenge the status quo and bring new solutions to those who question the costly mindset of a disposable society that overwhelms our landfills. Re-Coat Renovations allows you to rejuvenate what you already have with a spectacular new surface. You can get a clean, sleek designer look and feel – with less time and money spent, and definitely less mess and waste to deal with.
Ask Re-Coat Renovations to partner with you and bring your vision to life with solutions that simplify your renovation project. Owners, Denis and Amanda Dodier are the Lethbridge locals behind the successful restoration business, Fibrenew, bringing beautiful everyday pieces back to life. They also run an upholstery repair business, Lethbridge Upholstery & Repair. Re-Coat Renovations Inc. owns and operates Fibrenew Lethbridge, Armour Bathtub Refinishing of Lethbridge, and Lethbridge Upholstery & Repair.
To read our Code of Ethics, view this PDF.
232 - 12C Street North
Lethbridge, Alberta  T1H 2M7