Give your home
or business
a designer look
– elegant
– affordable
– no demolition
Home upgrade in just a few days?
You can have it all: a sparkling countertop, tub or tile area at a fraction of the cost of remodelling. Sound impossible? Not for us! 
Full renovation not possible?
Let us show you what a revolutionary Re-Coat can do!
Are you dreaming about a sleek new look for your kitchen or bathroom, but just don't have the time, budget or the will for a full renovation? Now you don't have to do a massive tear-out or an expensive, full-on renovation to update your home's look. Say goodbye to your worn countertop and hello to a gleaming new surface. Refresh your chipped tub and shower and bring it back to luminous in just a day. Want spectacular results customized just for you? We can do that!
LOOKING FOR A SIMPLIFIED RENOVATION?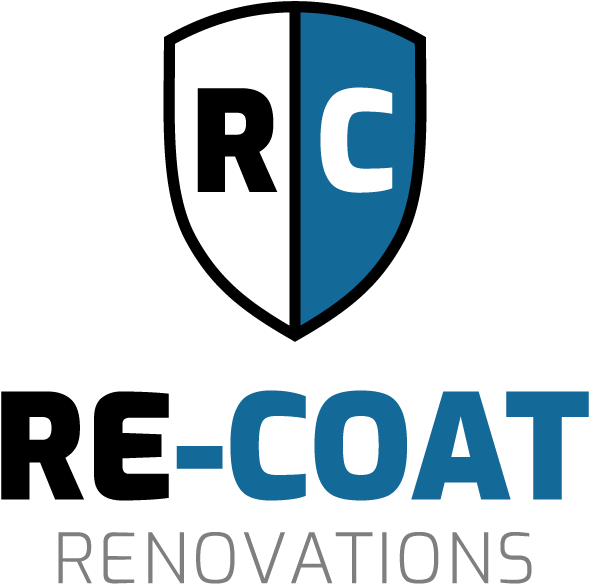 Why do a Re-Coat Renovation?
Owner, Amanda Dodier, explains why Re-Coat Renovations services are taking off in Southern Alberta. This fast, easy renovation solution lets business, contractors and homeowners get a new look often for less money, a lot less mess and in less time than a traditional renovation.
"The product we use coats directly over your existing countertop and is customizable in a wide variety of designs. The countertop finish has a very high-class look and feel. It looks expensive but it doesn't cost what a new granite or marble countertop would cost. Large stone countertops always leave a seam but with Re-Coat's special technology, you can have any size of countertop you want, and it will be seamless."
Amanda Dodier, Owner, Re-Coat Renovations
"We get a lot of interest from homeowners who are selling their house, or people looking for a fast and cost-effective home flip. What sells a house? Clean, new-looking kitchens and bathrooms! We can give homeowners an elegant, seamless, one-of-a-kind kitchen counter, and we can repair and re-paint bathroom tubs, showers and tiles – all this for a lot less money and mess than a full-on renovation. Homeowners and realtors love us because it adds a ton of value to the home."
Denis Dodier, Owner, Re-Coat Renovations
Go from drab to fab, fast!
Call today for a quote that won't break the bank.

About Re-Coat Renovations
At Re-Coat Renovations, we believe you can have your dream kitchen and bathroom without a renovation that's all-consuming, eating up your time, money and energy. That's why we're offering Lethbridge and Southern Alberta businesses and homeowners a simpler way to renovate.
We challenge the status quo and bring new solutions to those who question the costly mindset of a disposable society that overwhelms our landfills. Re-Coat Renovations allows you to rejuvenate what you already have with a spectacular new surface. You can get a clean, sleek designer look and feel – with less time and money spent, and definitely less mess and waste to deal with.
Ask Re-Coat Renovations to partner with you and bring your vision to life with solutions that simplify your renovation project. Owners, Denis and Amanda Dodier are the Lethbridge locals behind the successful restoration business, Fibrenew, bringing beautiful everyday pieces back to life. They also run an upholstery repair business, Lethbridge Upholstery & Repair. Re-Coat Renovations Inc. owns and operates Fibrenew Lethbridge, Armour Bathtub Refinishing of Lethbridge, and Lethbridge Upholstery & Repair.
To read our Code of Ethics, view this PDF.
232 - 12C Street North
Lethbridge, Alberta  T1H 2M7